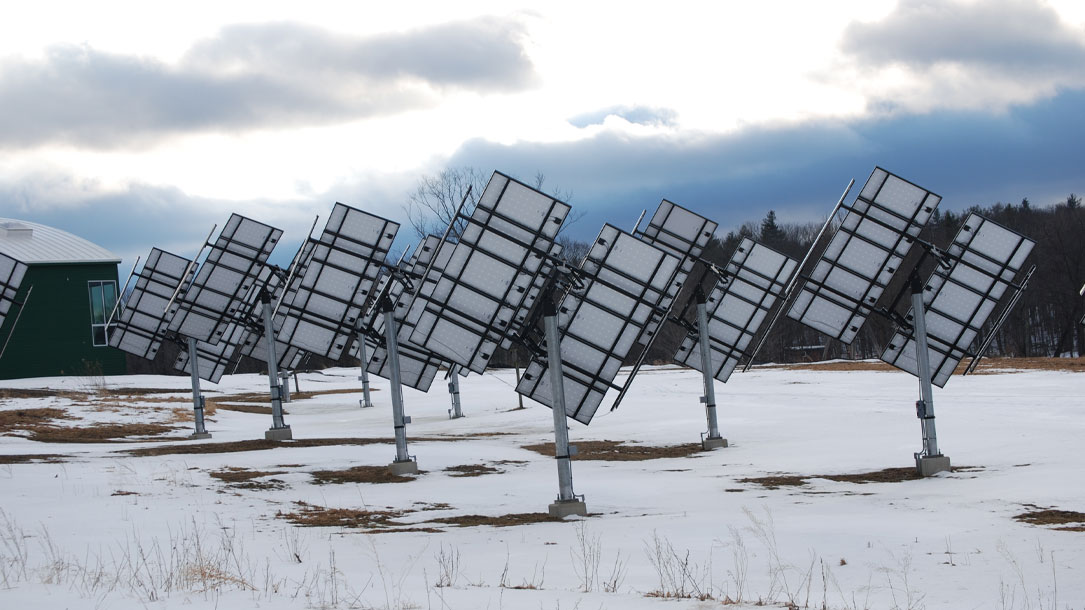 Judy Anderson
Reflections for land trusts, November 2019
I'm witnessing a growing interest in what I call "elevated solar." This is solar designed in a manner that allows for large animals, vegetables, and crops to be grown in and around the solar panels (as shown in one example below). Land trusts are starting to express interest given that it's compatible with a variety of agricultural practices.
The panels are lifted up (often starting at seven feet) and spread farther apart—both on the same "rack" and between racks—to allow more sunlight to hit the ground.
This means that the solar density isn't as high as it would be if there were continuous banks of solar panels. However, it gives farmers and ranchers more options.
In Massachusetts, there is added incentive to allow this type of solar to be competitive with traditional ground-mounted solar. From what I understand, this is critical.
If we want to slow down climate change to a level that will avoid massive extinctions of plants and animals, we will have to move off fossil fuels and ramp up our use of renewables.
Remember that natural climate solutions are important and can, with the current estimate, provide up to 21% of the solution. Andrew Bowman of the Land Trust Alliance lays out a clear call to action to help make it possible.
If you want additional information, check out the widely-referenced, peer-reviewed study published last year in Science Advances from The Nature Conservancy and 21 institutional partners. They found that nature's contribution could equal 21% of the nation's current net annual emissions by adjusting 21 natural management practices to increase carbon storage and avoid greenhouse emissions.
The news that climate change is picking up speed isn't good, but we have choices. We are going to need to use all the tools we have. In addition to direct land conservation and related climate management, elevated solar gives us another tool in our conservation toolbox. It's an idea that land trusts can help spread and—just as land trusts advocate for conservation funding—we could advocate for incentives to conserve additional land and make this type of solar possible, too.
Best,